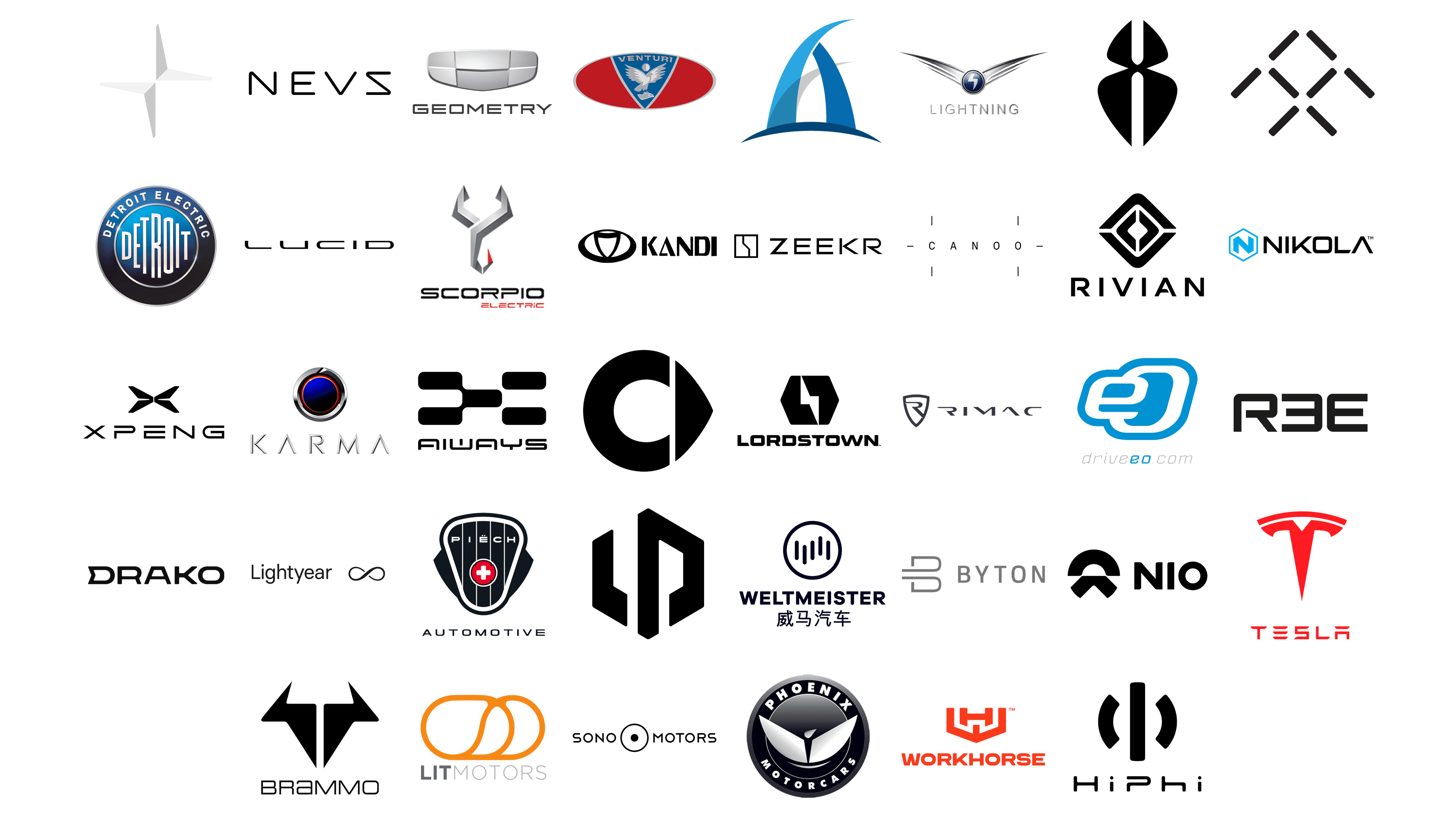 There aren't too many purely electric car manufacturers in the world, as this type of cars has been introduced to the public on mass scale only this century. There have long been hybrid cars, but the exclusively battery-powered cars are still very much an oddity. Regardless, the market has already been formed, and it's now mostly dominated by the Chinese and Tesla.
Tesla
Founded: July 1, 2003
Founder: Elon Musk, JB Straubel, Martin Eberhard, Marc Tarpenning, Ian Wright
Headquarters: Palo Alto, California, United States
Owner: Elon Musk (20.8%)
Website: www.tesla.com
The first all-electric car created by Tesla was a 2012 Tesla S model, which was the first in the series of innovative models that gradually climbed their way to being a real possible substitute to the everyday diesel cars. For instance, in 2020 the company has sold around 450.000 electric cars.
Polestar
Founded: 1996
Headquarters: Gothenburg, Sweden
Parent organization: Geely
Owner: Volvo Cars
Website: www.polestar.com
Polestar is a Volvo subsidiary tasked with the creation of all-electric high-performance cars in 2017. By the 2020 they've accomplished this mission of their and created a Polestar 2 – a purely electric powerful car that can be bought even now. Polestar remains the one of the few major European brands of electric cars.
Smart
Founded: 1994
Founder: Nicolas Hayek
Headquarters: Böblingen, Germany
Parent organization: Daimler AG
Owners: Mercedes-Benz AG
Website: www.smart.com
Smart had the similar fate as Polestar. They were previously making micro-cars for Mercedes, but were reoriented to build electric cars of the same class in 2008. They continue building the diesel models, but the gradually walk away from them in favor of their recent Fortwo and Forfour all-electric autos.
Rimac
Founded: 2009
Founder: Mate Rimac
Headquarters: Sveta Nedelja, Zagreb County, Croatia
Website: www.rimac-automobili.com
Rimac is one of the few manufacturers in the world that dared to combine sports cars with fully electric batteries, which they worked to a very good effect, resulting in several cars that were both very powerful and very friendly to environment. Geographically, they are Croatian, which is pretty surprising – this country never had a proper car industry.
NIO
Founded: November 2014
Founder: William Li
Headquarters: Shanghai, China
Website: www.nio.io
There are many Chinese electric car producers of different calibers, but NIO is oldest and probably the most serious of them. They've been around since 2014, and by 2016 they launched their first electric car – a sports model called EP9. Right now, there are four models in production and several more in development.
Xpeng
Founded: 2014
Founder: He Xiaopeng, Xia Heng, He Tao, Yang Chunlei
Headquarters: Guangzhou, China
Website: www.xiaopeng.com
XPeng was started around the same time as NIO, but they are much less successful at making cars. Nonetheless, they've already created two fully battery-charged cars: one SUV and one sedan. They can be bought right now, although Xpeng is more focused on the Chinese market than anything else.
Aiways
Founded: 2017
Founder: Fu Qiang, Gu Feng
Headquarters: Shanghai, China
Website: www.ai-ways.eu
This brand is a lot fresher, only surfacing in year 2017. Naturally, they've only now managed to create one car, an Aiways U5 – a compact CUV with a very peculiar and futuristic design. However, if there was some home of acquiring Xpend outside of China, Aiways is almost exclusively for home market.
HiPhi
Founded: July 2019
Founder: Ding Lei
Headquarters: Shanghai, China
Website: hiphi.com
In 2019, HiPhi, a subsidiary under a Shanghai company Human Horizons, has been announced hand-in-hand with their crossover HiPhi X. This model is naturally an all-electric, but you can only physically buy it in its place of origin, Shanghai.
Kandi
Founder: Hu Xiaoming
Headquarters: Jinhua, Zhejiang, China
Subsidiaries: Zhejiang Kandi Electric Vehicles (50%), SC Autosports LLC
Website: www.kandiamerica.com
Kandi is a lot more successful company than some of their colleagues above. They are also from Shanghai and have been around for longer – long enough to create three distinct all-electric cars and a minivan. These, however, are definitely only for Chinese market.
Aspark
Founded: October 2005
Headquarters: Kita-ku, Osaka, Osaka, Japan
Website: asparkcompany.com
Aspark is a Japanese company specializing in manufacturing high-performance electric vehicles. Known for the Aspark Owl, the company shattered expectations with its impressive 0-60 mph time under 1.9 seconds, positioning it as one of the fastest EVs worldwide. Emphasizing power, luxury, and technological prowess, Aspark is a trailblazer in the EV market.
Brammo
Founded: 2002
Founder: Craig Bramscher
Headquarters: Talent, Oregon, United States
Owner: Cummins Inc.
Website: www.brammo.com
Once an eminent electric motorcycle manufacturer, Brammo was acquired by Polaris Industries in 2015. They significantly contributed to the electric vehicle industry, particularly focusing on energy storage and drivetrain systems.
Byton
Founded: 2016
Founder: Carsten Breitfeld, Daniel Kirchert
Headquarters: Nanjing, China
Parent organization: China Harmony New Energy Auto Holding Ltd
Website: byton.com
Established in 2016, Byton is a Chinese EV company known for its innovative smart SUV, M-Byte. Their approach combines advanced connectivity with a luxurious user-centric design, demonstrating a future-oriented perspective on mobility.
Canoo
Founded: 2017
Founder: Stefan Krause, Ulrich Kranz
Headquarters: Torrance, California, U.S.
Website: www.canoo.com
An American EV startup founded in 2017, Canoo aims to redefine urban mobility with its uniquely designed, subscription-based vehicles. Their multi-purpose delivery vehicle (MPDV) promises to reshape the last-mile delivery sector.
Detroit Electric
Founded: 1907
Headquarters: Detroit, Michigan, U. S.
Once an early 20th-century electric car producer, Detroit Electric was revived in 2008, renewing its dedication to manufacturing high-performance EVs. Their comeback vehicle, the SP:01, was touted as a fast electric sports car.
Drako Motors
Founded: 2013
Founder: Dean Drako
Headquarters: San Jose, California, United States
Website: drakomotors.com
Based in Silicon Valley, Drako Motors is a luxury electric vehicle manufacturer. Their first creation, the GTE, is a high-performance EV, boasting four motors, an incredible horsepower, and state-of-the-art driving dynamics.
Drive eO
Founded: 2011
Headquarters: Ogresgala pagasts, Ogre Municipality, Latvia
Website: www.driveeo.com
Drive eO is a Latvian engineering company specializing in high-performance electric vehicle design and production. They are known for their work in electric rally and sports car development, including the impressive Pikes Peak Hill Climb.
Faraday Future
Founded: 2014
Founder: Jia Yueting
Headquarters: Los Angeles, California
Website: www.ff.com
Faraday Future is a California-based EV manufacturer known for its intelligent electric vehicles. Its flagship model, the FF 91, is recognized for its high performance and user-focused design that integrates technology, sustainability, and luxury.
Geometry
Founded: 2019
Owners: Geely
Website: www.geometryauto.com
Geometry is a sub-brand of Geely Auto focusing on EVs. Launched in 2019, it aims to be a global player in the affordable EV market. Its most known model, Geometry A, showcases impressive range and tech-savvy features.
Karma Automotive
Founded: 2014
Headquarters: Irvine, California
Owners: Wanxiang Group
Website: www.karmaautomotive.com
Karma Automotive, a California-based manufacturer, is known for luxury electric vehicles like the Karma Revero. Its focus is on creating handcrafted, innovative cars that blend unique design with new technologies.
Leapmotor
Founded: December 2015
Founder: Fu Liquan, Zhu Jiangming
Headquarters: Hangzhou, Zhejiang, China
Website: www.leapmotor.com
Leapmotor, a Chinese EV startup, aims to make advanced, smart EVs accessible. Its compact Leapmotor S01 and crossover Leapmotor T03 reflect its commitment to technology, design, and affordability.
Lightning Car Company
Founded: 18 January 2007
Headquarters: Coventry, United Kingdom
Owners: Iain Sanderson
Website: lightninggt.com
The Lightning Car Company is a UK-based manufacturer known for Lightning GT, a high-performance EV. Its focus is on using advanced technologies to achieve impressive speed and performance, making electric cars thrilling to drive.
Lightyear
Founded: 2016
Founder: Lex Hoefsloot, Qurein Biewenga, Arjo van der Ham, Koen van Ham
Headquarters: Helmond, Netherlands
Website: lightyear.one
Lightyear, a Dutch automaker, is creating innovative solar electric vehicles, the Lightyear One being the first. The company's mission is to provide clean mobility everywhere with energy-efficient designs and integrated solar panels.
Lit Motors
Founded: February 2010
Founder: Daniel K. Kim
Headquarters: San Francisco, California, U.S.
Website: litmotors.com
Lit Motors is a San Francisco-based company known for a unique two-wheeled self-balancing EV, the C-1. Combining the efficiency of a motorcycle with the safety of a car, Lit Motors aims to revolutionize urban transport.
Lordstown
Founded: 2018
Founder: Steve Burns
Headquarters: Lordstown, Ohio, U.S.
Website: lordstownmotors.com
Lordstown Motors is an Ohio-based EV manufacturer focusing on electric pickup trucks, notably the Endurance. Its goal is to transform the commercial fleet industry by offering durable, cost-effective, and zero-emission work vehicles.
Lucid Motors
Founded: 2007
Founder: Bernard Tse, Sam Weng, Sheaupyng Lin
Headquarters: Newark, California, U.S.
Owner: Public Investment Fund
Website: www.lucidmotors.com
Lucid Motors is a luxury mobility company that excels in creating electric vehicles with exceptional performance, range, and efficiency. Its flagship vehicle, the Lucid Air, showcases the company's advanced technology and design capabilities.
NEVS
Founded: 2012
Defunct: 2023
Headquarters: Trollhättan, Sweden
Parent organization: China Evergrande New Energy Vehicle Group
Website: www.nevs.com
NEVS (National Electric Vehicle Sweden) took over Saab's assets to create electric vehicles. Its focus is on sustainable transportation, and it's known for EVs like the NEVS 9-3, an eco-friendly vehicle with a smart, connected design.
Nikola
Founded: 2014
Founder: Trevor Milton
Headquarters: Phoenix, Arizona, U.S.
Website: nikolamotor.com
Nikola Corporation is a pioneer in zero-emissions trucks, with offerings in both battery and hydrogen fuel cell technology. The Nikola One and Tre models showcase the company's innovative approach to sustainable heavy-duty transport.
Phoenix Motorcars
Founded: 2002
Headquarters: Anaheim, California
Parent organization: SPI Energy
Website: www.phoenixmotorcars.com
Based in California, Phoenix Motorcars is renowned for manufacturing eco-friendly transit solutions. Their Zero Emissions Utility Shuttle (ZEUS) has gained popularity due to its emissions-free operation and significant fuel savings, benefiting both commercial operators and the environment.
Piech Automotive
Founded: 2017
Founder: Rea Stark Rajcic, Anton Piech
Headquarters: Zug, Switzerland
Parent organization: Piëch Holding AG
Website: piech.com
A Swiss-German automaker, Piech Automotive blends classic design aesthetics with modern technology. Its flagship Mark Zero combines timeless elegance with innovative, fast-charging technology, pioneering a new direction for electric mobility.
REE Automotive
Founded: January 16, 2011
Headquarters: Coventry, United Kingdom
Website: ree.auto
An Israel-based EV platform innovator, REE Automotive reimagines vehicle architecture with its REEcorner technology integrating all traditional vehicle components into the wheel arch, enabling complete design freedom for EVs.
Rivian
Founded: June 2009
Founder: R. J. Scaringe
Headquarters: Irvine, California, U.S.
Owners: Amazon, Abdul Latif Jameel
Website: rivian.com
Based in Michigan, Rivian produces electric adventure vehicles. With its innovative electric pick-up, the R1T, and the R1S SUV, Rivian has become a major player in the EV market, combining utility, off-road capabilities, and sustainable technology.
Scorpio Electric
Founded: 2017
Headquarters: Singapore
Singapore's Scorpio Electric revolutionizes urban transport with electric motorcycles. With an emphasis on design, performance, and technology, it aims to transform personal urban transportation and promote sustainable commuting practices.
Singulato
Founded: 2014
Headquarters: Beijing, People's Republic of China
Website: www.singulato.com
A Beijing-based EV manufacturer, Singulato is known for its innovative automotive designs. It focuses on the production of smart, electric, and interconnected vehicles. With a commitment to sustainability, it strives to revolutionize transportation, shaping the future of mobility.
Sono Motors
Founded: 2016
Founder: Laurin Hahn, Navina Pernsteiner, Jona Christians
Headquarters: Munich, Germany
Website: sonomotors.com
Based in Germany, Sono Motors is an electric car startup specializing in solar electric vehicles (SEVs). Its flagship model, the Sion, has solar cells integrated into its bodywork, demonstrating its pioneering vision of sustainable and self-charging electric transportation.
Venturi Automobiles
Founded: 1984
Founder: Claude Poiraud, Gérard Godfroy
Headquarters: Monaco
Subsidiaries: Voxan
Owner: Gildo Pallanca Pastor
Website: www.venturi.com
A Monaco-based automaker, Venturi Automobiles stands out as a creator of high-performance electric vehicles. Not just limited to cars, its projects range from speed-record attempts to electric-powered, high-altitude vehicles, marking its prominence in the EV innovation space.
Weltmeister
Founded: January 2015
Headquarters: China
Owner: WM Motor
Website: www.wm-motor.com
Weltmeister (or WM Motor) is a Chinese automaker focusing on producing smart, electric vehicles. Its commitment to technology and innovation has produced advanced, high-quality EVs at a more accessible price point, making it an influential player in the Asian EV market.
Workhorse
Founded: 1998
Founder: Stephen Burns
Headquarters: Sharonville, Ohio, United States
Website: workhorse.com
An American company, Workhorse Group Inc. develops electrically powered delivery and utility vehicles. By focusing on the commercial transportation sector, it strives to revolutionize the way goods and services are delivered, marrying efficiency and environmental sustainability.
Zeekr
Founded: 2021
Headquarters: China
Owners: Geely Automobile Holdings Ltd
Website: zeekrlife.com
Zeekr is a brand owned by Geely, a major Chinese automotive company. Zeekr's mission is to combine cutting-edge technology with a luxury driving experience. Its cars are tailored for the premium EV segment, targeting tech-savvy consumers demanding innovation and comfort.