Lincoln is an American brand that produces luxury passenger cars. It was founded in 1917 by Henry Leland as a tribute to President Abraham Lincoln. Three years after the company was founded, the first model of the brand (V8) appeared.
Meaning and history
The Lincoln logo is a compass needle that points to all sides of the world. The company's goal was to be recognized in all countries.
1917 – 1922
In 1917, the first logo in the form of a medallion appeared, in the middle of which the name of the brand was written in black and bold font. It was the only logo used by the brand when it belonged to Henry Leeland.
1922 – 1939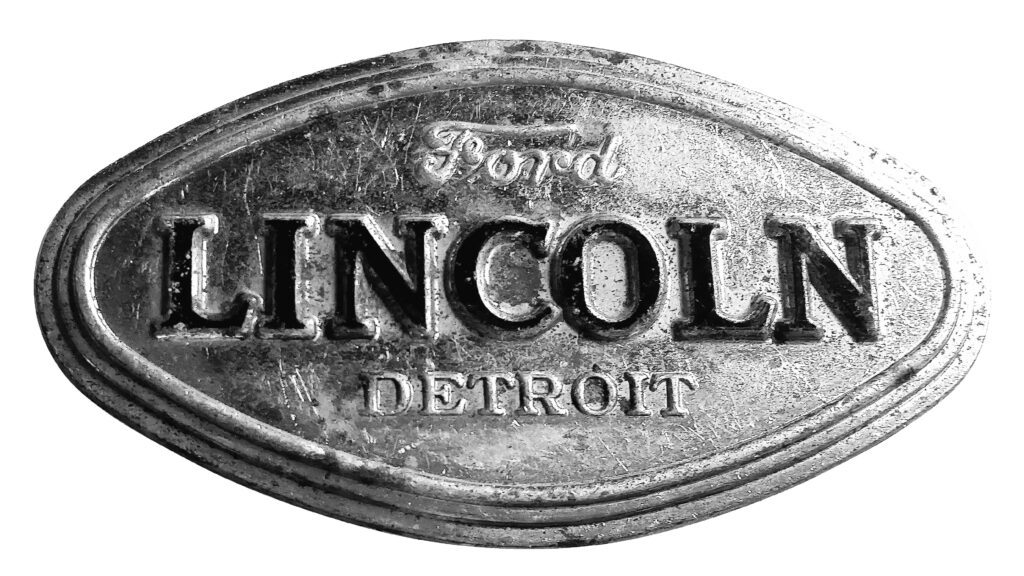 When Lincoln became part of Ford, the shape of the logo was changed, and now it was a slightly rounded rhombus shape. In the middle there was still the brand name. Above it appeared the word 'Ford', and below – 'Detroit'.
1939 – 1954
In 1939, the logo was depicted as a black circle. Above in white italics was the name of the company with the coat of arms under it.
1954 – 1964
This version of the logo was very similar to the previous one. Clearer borders have appeared, colors have become lighter and brighter, the coat of arms has become better visible.
1964 – 1972
In 1964, the logo began to take on the shape of the emblem we know today. The four-pointed star was in a three-dimensional image and symbolized the luxury and high status of cars.
1972 – 2012
In 1972, the logo was noticeably simplified. The compass star was depicted on an upwardly elongated and slightly convex rectangle. And under the symbol appeared the name of the company with simple and clear lines.
2012 – present
The star now did not go beyond the boundaries of the rectangle, but clearly fit into it. A vertical bar appears on the right side, and after it goes 'The Lincoln Motor Company'.
Emblem and Symbol
There are several theories about the meaning of a brand logo. Some believe that this is a compass, the arrows of which are directed to the four cardinal points. This demonstrates the brand's intention to distribute its vehicles all over the world. Others argue that the emblem, often referred to as the 'Lincoln Star', is a celestial body that reflects the richness and solidity of the brand. Others argue that the symbol has no real meaning.
The Legends
Lincoln LS
The Lincoln LS is a middle-class passenger car appeared in 1999 as a successor to the Continental model. It only acted as a 4-door sedan. The Lincoln LS was based on the DEW98 platform – the same as the Jaguar S-Type.
Lincoln Aviator
The vehicle debuted in 2002. Structurally, the Aviator was based on the Ford U-Platform. The twin models of the Lincoln Aviator were the Mercury Mountaineer and the Ford Explorer, but Lincoln was the most exclusive of the three.